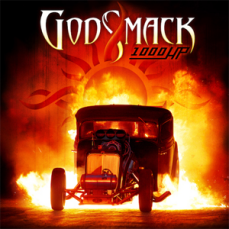 1000 hp is the sixth studio album by the American rock/metal band Godsmack. The album is a follow up to the band's 2010 gold-selling album The Oracle and was released on August 5, 2014.
On November 6, 2013, it was reported that Godsmack had begun writing for the new album, yet to be titled 1000hp. On February 5, 2014 frontman Sully Erna tweeted that the band has made massive headway in the songwriting process for album.
In an interview with Billboard, Erna revealed that the writing process for 1000hp was collaborative, stating: "When it was time to start writing again, the guys brought in a batch of songs and I had a batch of songs I'd been working on and we laid them all on the table and started carving through them and seeing which ones we were gonna tighten up and which ones were not gonna make the cut." The result, according to Erna, is a characteristically hard-hitting affair that ranges from the blazing, autobiographical title track and first single to more experimental and stretched-out fare such as "Generation Day" and "Nothing Comes Easy."
Album Information
Released: August 5, 2014
Genre: Heavy metal, alternative metal
Length: 45:28
Label: Universal, Republic, Spinefarm
Producer: Sully Erna, Dave Fortman
Website: Official Site
Track Listings
1. "1000hp"
2. "FML"
3. "Something Different"
4. "What's Next?"
5. "Generation Day"
6. "Locked & Loaded"
7. "Livin' in the Gray"
8. "I Don't Belong"
9. "Nothing Comes Easy"
10. "Turning to Stone"