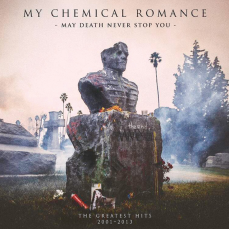 May Death Never Stop You is a greatest hits compilation album by the American rock band My Chemical Romance, spanning the band's entire career.
On March 22, 2013, the band announced their break-up on their official website, issuing this statement:
"Being in this band for the past 12 years has been a true blessing. We've gotten to go places we never knew we would. We've been able to see and experience things we never imagined possible. We've shared the stage with people we admire, people we look up to, and best of all, our friends. And now, like all great things, it has come time for it to end. Thanks for all of your support, and for being part of the adventure."
May Death Never Stop You was released on March 25, 2014. Pre-orders became available through My Chemical Romance's official website on January 21, 2014.[6] The unreleased track "Fake Your Death" was premiered on BBC Radio One on February 17, 2014 and was then available digitally via iTunes straight after.
Album Information
Released: March 25, 2014
Genre: Emo, pop punk, post-hardcore
Length: 70:00
Label: Reprise
Producer:
Website: Official Site
Track Listings
1. "Fake Your Death"
2. "Honey, This Mirror Isn't Big Enough for the Two of Us"
3. "Vampires Will Never Hurt You"
4. "Helena"
5. "You Know What They Do to Guys Like Us in Prison"
6. "I'm Not Okay (I Promise)"
7. "The Ghost of You" (extended version)
8. "Welcome to the Black Parade"
9. "Cancer"
10. "Mama"
11. "Teenagers"
12. "Famous Last Words"
13. "Na Na Na (Na Na Na Na Na Na Na Na Na)" (single version)
14. "Sing"
15. "Planetary (Go!)"
16. "The Kids from Yesterday"
17. "Skylines and Turnstiles" (demo)
18. "Knives/Sorrow" (demo)
19. "Cubicles" (demo)