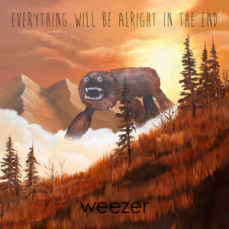 Everything Will Be Alright in the End is the forthcoming ninth studio album by the American alternative rock band Weezer. It is the third Weezer album produced by Ric Ocasek, and the first released by Republic Records. The album will be released on October 7, 2014.
In 2010, Weezer released two albums: Hurley, and a collection of unreleased material, entitled Death to False Metal. Shortly after their release, the band announced that they had begun work on a ninth studio album, with the intent of a 2011 release. Set to be produced by Shawn Everett, who had worked with the band on their previous two releases, the album was ultimately shelved. At this time, band frontman Rivers Cuomo stated: "We just started working on our tenth record. I was talking to the producer and he was saying, "These songs sound totally different from Hurley. Hurley was kind of dark, and the new songs sound like you're 16, riding your bicycle to get a Slurpee." The band ultimately abandoned work on the album, in order to give primary songwriter Cuomo more time to write more material.
Cuomo eventually announced plans to begin recording a new album beginning in January 2014, with work continuing through the summer. Ric Ocasek was announced as the album's producer; he has previously produced the band's self-titled first and third albums, otherwise known as the Blue Album (1994) and the Green Album (2001). An official announcement was made on March 19, 2014, by a clip of two new songs being posted on the band's official YouTube account, that ended with the words, "in the studio now". On June 13, the band announced the title of the album to be Everything Will Be Alright in the End.
Album Information
Released: October 7, 2014
Genre: Alternative rock, power pop
Length: 42:24
Label: Republic
Producer: Ric Ocasek
Website: Official Site
Track Listings
1. "Ain't Got Nobody"
2. "Back to the Shack"
3. "Eulogy for a Rock Band"
4. "Lonely Girl"
5. "I've Had It Up to Here"
6. "The British Are Coming"
7. "Da Vinci"
8. "Go Away"
9. "Cleopatra"
10. "Foolish Father"
11. "I. The Waste Land"
12. "II. Anonymous"
13. "III. Return to Ithaka"