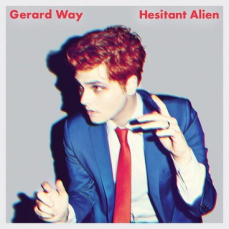 Hesitant Alien is the debut studio album by Gerard Way, former lead singer of the American alternative rock band My Chemical Romance, released in the US on September 30, 2014. It was officially announced in May 2014, although demos of the songs "Zero Zero" and "Millions" have circulated since 2012.
The album was produced by Doug McKean, known for his work as recording engineer on a number of projects with producer Rob Cavallo, including several releases by My Chemical Romance.
On March 22, 2013, My Chemical Romance officially disbanded. This was followed by the release of a greatest hits album entitled May Death Never Stop You a year later. Having recently signed with Warner Bros. Records, Gerard went on to announce the beginning of his solo career with the release of an advance-single, "Action Cat", on June 11, 2014. This was accompanied by a new website featuring concept artwork for the album and a new logo. The album's first single, "No Shows", was released on August 18, 2014. "Millions", the second single, will be released on November 17, anticipated by a music video released on October 6.
Album Information
Released: September 30, 2014
Genre: Alternative rock, Glam rock, Britpop, Shoegaze, Post-punk
Length: 36:51
Label: Warner Bros. Records, Reprise Records
Producer: Doug McKean
Website: Official Site
Track Listings
1. "The Bureau"
2. "Action Cat"
3. "No Shows"
4. "Brother"
5. "Millions"
6. "Zero Zero"
7. "Juarez"
8. "Drugstore Perfume"
9. "Get the Gang Together"
10. "How It's Going to Be"
11. "Maya the Psychic"