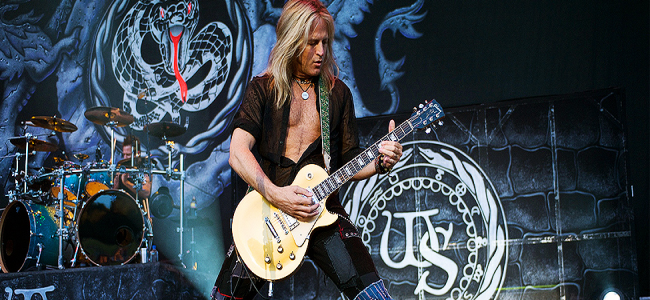 Whitesnake have parted company with guitarist Doug Aldrich who has been in the band for the past 11 years.
Founding singer and mainman David Coverdale said that Doug is leaving the band "to pursue a solo career" but Doug has denied this and says he doesn't know where that info came from. It came from David Coverdale's Twitter page Doug...
Both parties issued statements through social media late on Friday night UK time and Doug said on his Facebook page: "Thanks to my big bro David for such a killer run together!! So many songs, tours, projects, always inspiring and pushing each other! Mostly I want to thank the loyal Whitesnake choir and fans around the world. You have been so amazing to me and it's been an honor to play for you with Whitesnake. I love you, guys, and I'll see you all again. Thank you so very much for your unending support.
"Also, not sure how or where the info started about a solo career, but this is not true or correct information. I have no plans at this time to go solo. I'm just not in the Whitesnake/David Coverdale band anymore.
"I'll let you guys know what I'm doing [as soon as possible] but for now please know I very much appreciate your support and will hopefully do a statement with my brutal brother [David Coverdale] shortly."
Doug played on the last two Whitesnake studio albums, 2008s 'Good To Be Bad' and 2011s 'Forevermore', and appeared on several live releases, including last year's 'Made In Japan' and 'Made In Britain/The World Records'.
Doug has spent the past few months performing with Raiding The Rock Vault, dubbed "the ultimate classic rock concert experience", which plays the LVH Hotel And Casino in Las Vegas four or times a week. Boasting the ultimate set list, the show takes audiences on a magical musical journey, traversing the genre's history from the '60s through the '80s.
David Coverdale tweeted the following at 10.07pm Friday: "It is with a heavy heart we bid adieu to super guitarist Doug Aldrich who is leaving WS to pursue a solo career. Fare Thee Well, My Brother!"
Source: MetalTalk